THEATRE
Close collaboration with theatre director Rabih Mroué on a number of widely touring productions.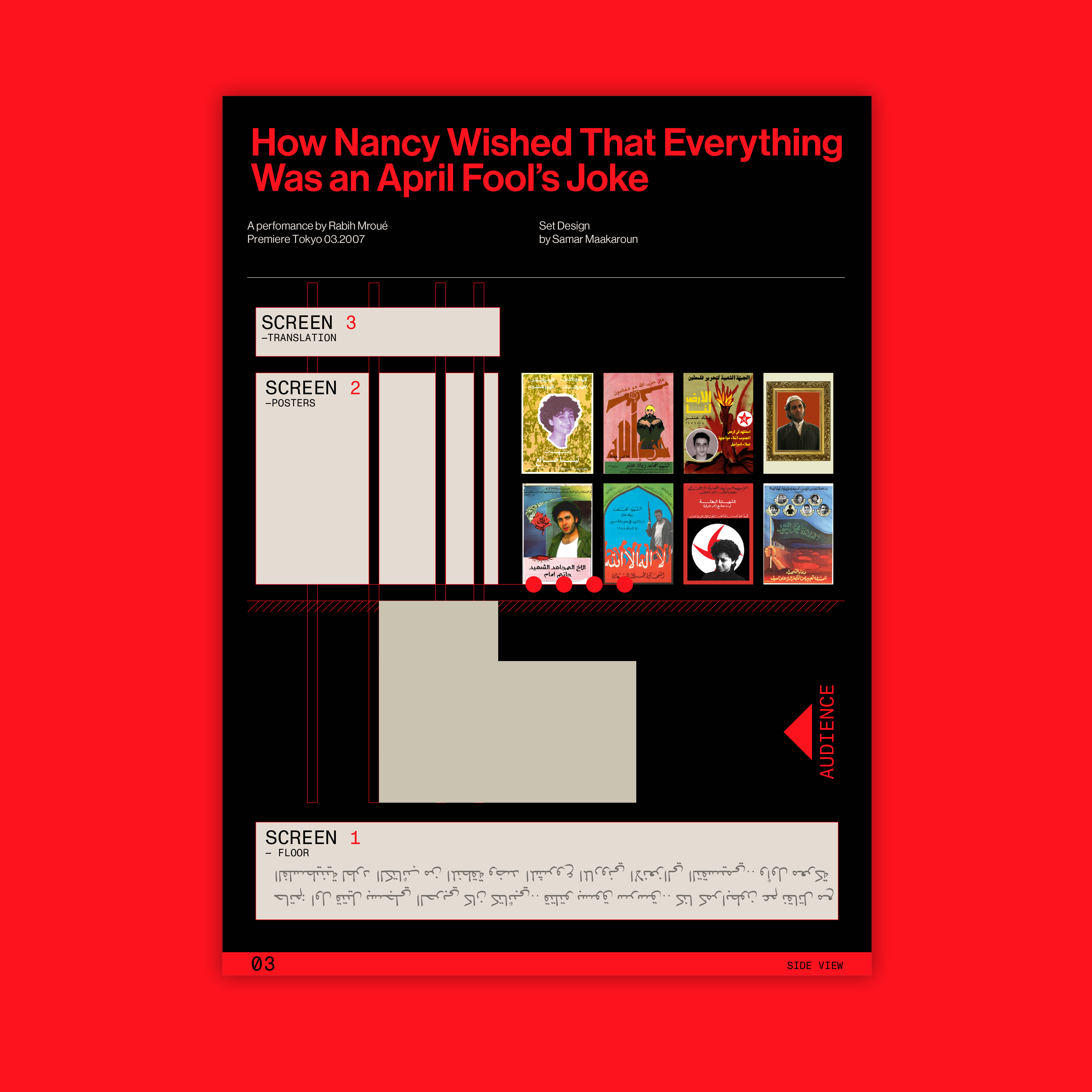 Between 2003 and 2018, I worked with director Rabih Mroué, designing stage sets and promotional imagery for numerous theatrical productions, including So Little Time (2017), 33 RPM Per Second (2012), Photo-Romance (2009), How Nancy Wished that Everything Was An April Fool's Joke (2007), Who's Afraid of Representation (2004), Looking for a Missing Employee (2003).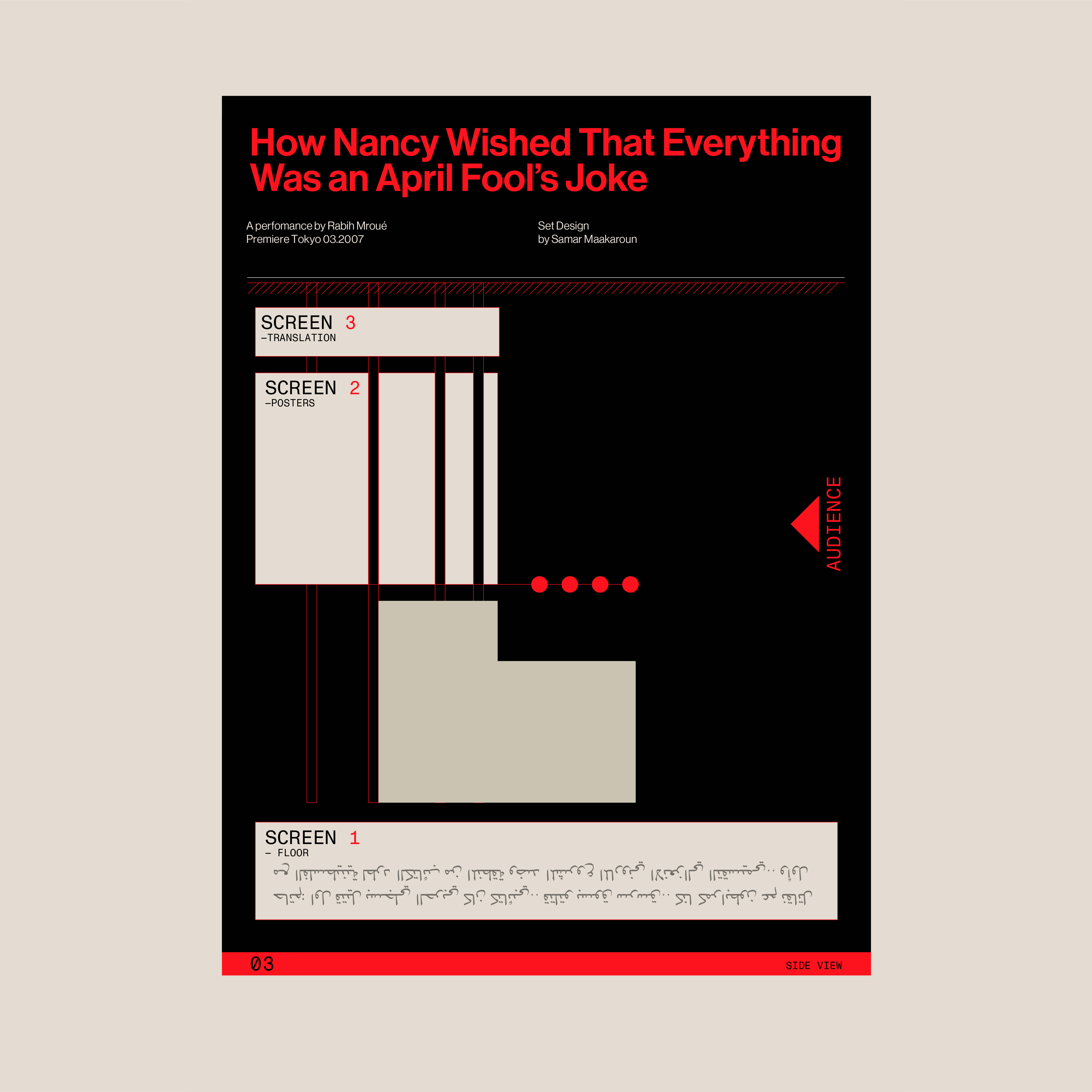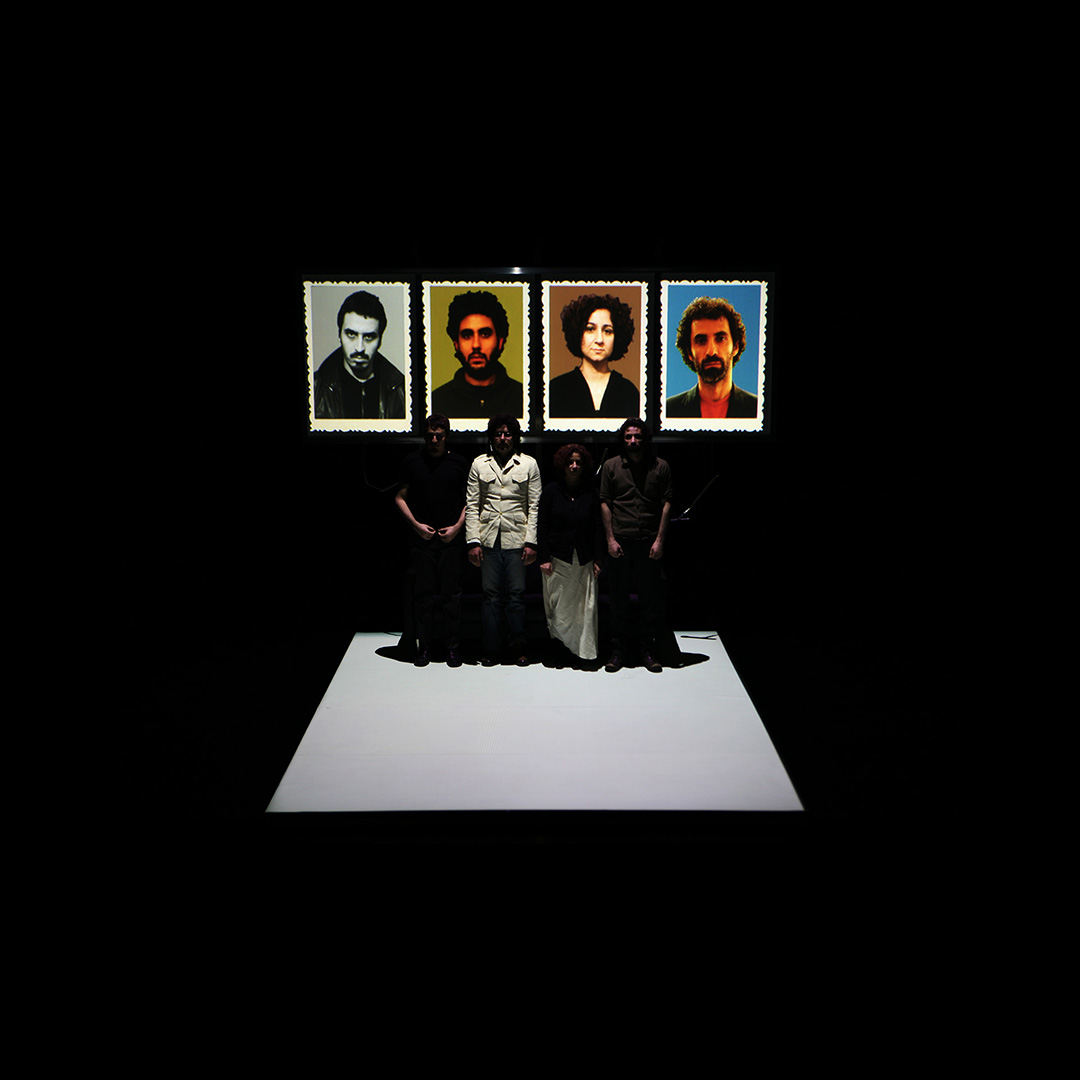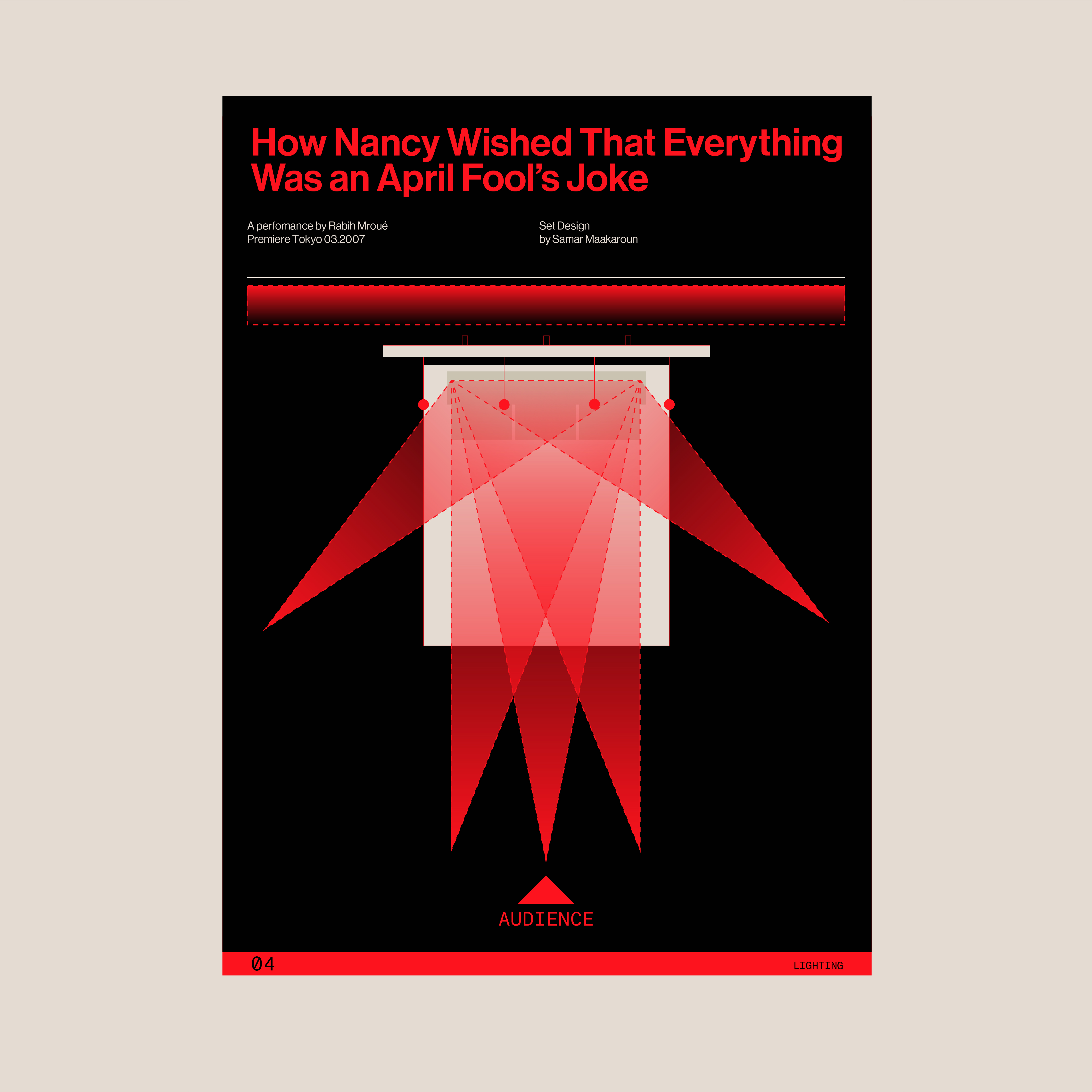 Showing across Norway, Finland, Slovakia, Germany, Holland, Switzerland, Austria, France, UK, Estonia, Egypt, Tunis, Korea, the US and Japan, these widely-touring, critically acclaimed performances shaped my thinking on storytelling through imagery, and the multitude of interpretations of any one story.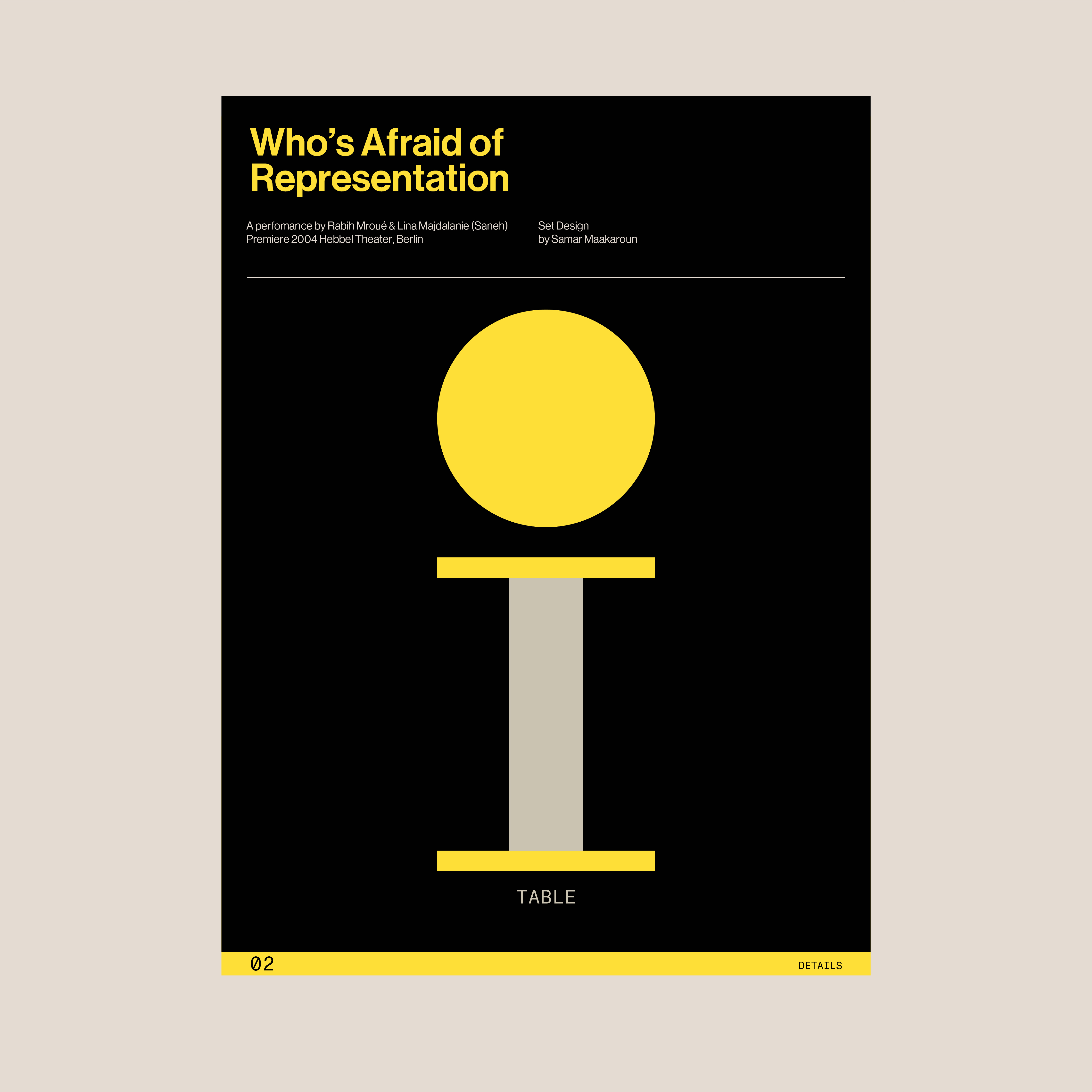 Who's Afraid of Representation
written and directed by :
Rabih Mroué
With: Lina Majdalanie
Set Design: Samar Maakaroun
Assistant: Hatem El-Imam, Christelle Khoury
How Nancy wished that everything was an April fool's joke
Directed by Rabih Mroué
Text: Fadi Toufic and Rabih Mroué
Stage design and graphics: Samar Maakaroun
Animation: Ghassan Halwani
Gathering of posters and research: Ziena Maasri
With Lina Saneh, Hatem El-Imam, Ziad Antar, Rabih Mroué
Co-produced by the Tokyo International Arts Festival, Ashkal Alwan/Beirout 2007, Temps d'images / La Ferme du Buisson-Scène nationale de Marne La Vallée and the Festival d'Automne à Paris
With support from the Fondation d'Entreprise CMA CGM and Zaza and Philippe Jabre
Thanks to Service de Coopération et d'Action Culturelle de l'Ambassade de France au Liban
So Little Time
Written and directed by Rabih Mroué
Performed by Lina Majdalanie
Collaborative writers Yousef Bazzi and Lina Majdalanie
Set designer Samar Maakaroun
Graphics and assistant director Abraham Zeitoun
Research assistant Andrea Geisslerenglish
Translation Ziad Nawfal and Joumana Seikaly
Music kari'atal-funjan - Abdel Halim Hafez (composed by: Mouhamad al Mouji, lyrics: Nizar Qabbani)
A production of Rabih Mroué in co-production with Hau Hebbel Am Ufer, Wiesbaden Biennale, Festival d'Automne à Paris and Théâtre de la Bastille
Sponsored by the Federal Cultural Foundation
33 RPM Per Second

Written and directed by Lina Saneh Majdalani and Rabih Mroué
Animation, scenography and graphics: Samar Maakaroun
Director of photography Sarmad Louis
Co-Production Festival d'Avignon, KunstenFestivaldesArts (Bruxelles), Scène nationale de Petit-Quevilly-Mont-Saint-Aignan (Rouen), Festival delle Colline Torinesi (Turin), La Bâtie Festival de Genève, Kampnagel (Hamburg), Steirischer Herbst (Graz), Tampere Theatre Festival (Helsinki), Malta Festival Poznan 2012, Association libanaise pour les Arts plastiques Ashkal Alwan (Beyrouth)
Looking for a Missing Employee
Written and directed by
Rabih Mroué
Performed by Rabih Mroué and Hatem Imam
Set design: Samar Maakaroun, Talal Chatila
Technical Assistance: Samar Maakaroun
Assistant director: Samar Maakaroun

Photo Romance

Written and directed by :
Lina Majdalanie et Rabih Mroué
Set design: Samar Maakaroun
With :Charbel Haber (music), Rabih Mroué, Lina Majdalanie
Production :
Festival d'Avignon ; Théâtre de l'Agora – scène nationale d'Evry et de l'Essonne ; Festival/Tokyo ; HEBBEL-THEATER BERLIN GESELLSCHAFT mbH, Hebbel am Ufer, Berlin ; L'Etablissement public du Parc et de la Grande Halle de la Villette, Paris ; Associazione Festival delle Colline, Turin ; Association libanaise pour les arts plastiques, Ashkal Alwan, Beyrouth